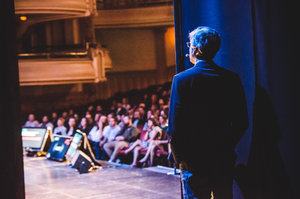 Thank you for joining us!
The Tastys: A LIVE AWARDS PROGRAM CELEBRATING WHAT'S INSPIRING IN FOOD & DRINK.
We're thrilled to raise the curtain of year two of The Tastys: A celebration of what's inspiring the new generation of eaters, drinkers, and innovators hosted by Matty Matheson of VICELAND's Dead Set on Life. Nominees for 2017 are now in- check them out here!

We're pushing the boundaries of what a food awards program can be, putting our focus on culture, innovation, and diversity. With over 25 award categories including best food startup, best food blog, and best non-profit, we're toasting chefs, restaurants, food media, and more for their great taste.

This isn't your regular golf-claps awards ceremony, either: our live show brings energy to the format with a DJ Dhundee, engaging demos with chefs and comedians and much more — not to mention your favorite chefs and cultural influencers all in attendance.
The Academy
The Taste Tastys Academy is comprised of influential members of food and drink community from around the country. Academy members vote in two rounds of voting: they vote submissions into nominees, and nominees into winners. Submissions for all awards categories are open to the public.
The Winners & Nominees
Check out who made the cut to be a nominee in the 2017 Tasty Awards — and discover the winners annouced at the live awards show!
RESTAURANT & CHEF AWARDS
New Chef: East
Camille Becerra, De Maria (New York)
Camille Cogswell, Zahav (Philadelphia)
Jonah Reider, Pith (New York)
Daniel Rose, Le Coucou (New York)
WINNER: Greg Baxtrom, Olmsted (Brooklyn)
New Chef: South
Brad Kilgore, Alter (Miami)
Ryan Lachaine, Riel (Houston)
Rebecca Wilcomb, Herbsaint (New Orleans)
Justin Yu, Better Luck Tomorrow (Houston)
WINNER: Nina Compton, Compère Lapin (New Orleans)
New Chef: West
Peter Cho, Han Oak (Portland)
Edouardo Jordan, Salare (Seattle)
Johnny Lee, Side Chick (California)
Pretti Mistry, Navi Kitchen, Juhu Beach Club (San Francisco)
WINNER: Sara Kramer & Sarah Hymanson, Kismet (LA)
New Chef: North
Michael Gallina, Vicia (St. Louis)
Sarah Grueneberg, Monteverde (Chicago)
David Posey, Elske (Chicago)
Jason Vincent, Giant (Chicago)
WINNER: Ann Kim, Young Joni (Minneapolis)
Outstanding Chef
Dan Barber, Blue Hill (New York)
Roy Choi and Dan Patterson (Oakland)
Dominique Crenn, Atelier Crenn (San Francisco)
Daniel Humm, Eleven Madison Park and The NoMad (New. York)
WINNER: Alice Waters, Chez Panisse (Berkeley)
New Restaurant: East
ATLA (New York)
Juliet (Boston)
Nina June (Rockport, ME)
Res Ipsa (Philadelphia)
WINNER: Lilia (Brooklyn)
New Restaurant: South
Bastion (Nashville)
Kemuri Tatsu-Ya (Austin)
McCrady's Tavern (Charleston)
Q by Peter Chang (Bethesda, MD)
WINNER: Pineapple and Pearls (Washington, DC)
New Restaurant: West
Destroyer (Los Angeles)
Felix (Los Angeles)
In Situ (San Francisco)
Tusk (Portland)
WINNER: JuneBaby (Seattle)
New Restaurant: North
Grand Cafe (Minneapolis)
Lady of the House (Detroit)
Mi Tocaya Antojería (Chicago)
Young Joni (Minneapolis)
WINNER: Elske (Chicago)
OUTSTANDING Restaurant
Blackbird (Chicago))
Del Posto (New York)
Manresa (Los Gatos, CA)
Providence (Los Angeles)
WINNER: Blue Hill at Stone Barns (New York

Pastry Chef
Roger Gural, Arcade Bakery (New York)
Ghaya Oliveira, Daniel (New York)
Zak Stern, Zak the Baker (Miami)
Fabian von Hauske, Contra (New York)
WINNER: Elisabeth Prueitt, Tartine (San Francisco)
Bar Program
Columbia Room (Washington, D.C.)
Lost Lake (Chicago)
Midnight Rambler (Dallas)
Nitecap (New York)
WINNER: Trick Dog (San Francisco)
Service
Aska (Brooklyn)
Been (San Francisco)
Le Coucou (New York)
The Grill (New York)
WINNER: Alinea (Chicago)
MEDIA AWARDS
Cookbook
Candy is Magic by Jami Curl
On Vegetables by Jeremy Fox & Noah Galuten
Salad For President: A Cookbook Inspired by Artists by Julia Sherman
Victuals: An Appalachian Journey, With Recipes by Ronni Lundy
WINNER: Salt, Fat, Acid, Heat: Mastering the Elements of Good Cooking by Samin Nosrat

Food Literature Book
Cork Dork by Bianca Bosker
Never Out of Season: How Having the Food We Want When We Want It Threatens Our Food Supply and Our Future by Rob Dunn
Potlikker Papers by John T. Edge
Wine. All The Time by Marissa Ross
WINNER: Grocery: The Buying and Selling of Food in America by Michael Ruhlman
BEVERAGE BOOK
A Proper Drink by Robert Simonson
Shake. Stir. Sip.: More Than 50 Effortless Cocktails Made in Equal
The Dirty Guide to Wine: Following Flavor from Ground to Glass by Alice Feiring
Where Bartenders Drink by Adrienne Stillman
WINNER: Meehan's Bartender Manual by Jim Meehan
Food television show
Dead Set On Life
Driven by Food
Huang's World
Samurai Gourmet
WINNER: Anthony Bourdain Parts Unknown
Web video or series
Byron Talbott
Cooking in America
Hot Ones (First We Feast)
Our Heart Within Us (The Perennial Plate)
WINNER: The Food Lab
Photographer
Clare Barboza (clarebarboza.com)
Christopher Boffoli (bigappetites.net)
Chris Court (chriscourt.com)
Maciek Jasik (maciekjasik.com)
WINNER: Evan Sung (evansung.com)
Radio Show or Podcast
Bite - Tom Philpott, Kiera Butler, and Maddie Oatman for Mother Jones
Speaking Broadly - Dana Cowin for Heritage Radio
The Super Amazing Restaurant Show - Alvin Cailan, Nakul & Arjun Mahendro
The Racist Sandwich - Soleil Ho, Zahir Janmohamed & Juan Diego Ramirez
WINNER: Good Food - Evan Kleiman for KCRW
Magazine or Zine
Cherry Bombe
Gather Journal
Milk Street Magazine
The Cleaver Quarterly
WINNER: Lucky Peach
Online Media Website
First We Feast (firstwefeast.com)
Munchies (munchies.tv)
New York Times Cooking (cooking.nytimes.com)
The New Food Economy (newfoodeconomy.com)
WINNER: Eater (eater.com)
Culinary Blog
Dine x Design, Kristin Guy
Husbands That Cook, Adam Merrin & Ryan Alvarez
Two For The Bar, Talia Kleinplatz
Wild Greens and Sardines, Linda Schneider
WINNER: The Food Lab on Serious Eats, J. Kenji López-Alt

Magazine / Newspaper article
"Bernard Baff and the Kosher Killers" by Tove Danovich for Lucky Peach
"Feeding the prison system: Some inmates buy way around institutional cooking" by Hanna Raskin for The Post and Courier
"Journey to the Home of Korea's Mother Sauces" by Matt Rodbard for Saveur
"The Most Exclusive Restaurant in America" by Nick Paumgarten for the New Yorker
WINNER: "A Day in the Life of a Food Vendor" by Tejal Rao for the New York Times
Restaurant review
"Founding Fathers review: Zero stars for the mega-popular D.C. eatery" by Tom Sietsema for The Washington Post
"Is The World Ready For the Austere Beauty of Günter Seeger?" by Bill Addison for Eater
"The Crushing Disappointment of L'Arpège" by Ryan Sutton for Eater
"Union Square Cafe Returns, With More Than a Dash of Déja Vu" by Pete Wells for the New York Times
WINNER: "Trump Grill Could Be the Worst Restaurant in America" by Tina Nguyen for Vanity Fair
INNOVATION AWARDS
Startup
Beyond Meat
Farmer's Fridge
Habit
Modern Meadow
WINNER: Impossible Foods
Non-Profit
Heritage Radio Network
Pilot Light
The Melting Pot Foundation
The Patachou Foundation
WINNER: No Kid Hungry

Environmental, Agricultural, or Sustainable Innovation
L.A. Kitchen
MIT Media Lab Open Agriculture Initiative (OpenAg)
Saltwater Brewery
Square Roots
WINNER: Seafood Watch, Monterey Bay Aquarium

Academic Institution or Organization
Brigaid
The Culinary Institute of America
Journee
SF Cooking School
WINNER: Southern Foodways Alliance
The After-Party
The Tastys is followed by an after party celebrating the winners, nominees and (of course) the future of taste. Food, drink and music to match the incredible talent and imagination recognized at the Taste Talks Food & Drink Awards make it a party unlike any other.
The Bartenders
Jeremy Oertel has been bartending in NYC for 13 years. His interest in craft cocktails began when he was on the opening staff at Dram, in South Williamsburg, where he was fortunate enough to work alongside some of the best bartenders in the city. He also worked at Mayahuel, a Tequila/Mezcal focused cocktail bar for 3 1/2 years and now currently has a position at Death & Co. He is currently the beverage director and a partner at Donna Cocktail Club in Brooklyn. His cocktails have been featured in Esquire, GQ, Details, The Wall Street Journal, The New York Times, Food and Wine, Time Out New York, New York Magazine, The Huffington Post, The New Yorker, among others. He has been featured on Mike Colemeco's Real Food on PBS and was a featured Mixologist alongside his wife on Food Network's, "Iron Chef America". He was named a Food & Wine top 25 Rising Star Mixologist in 2015.
Natasha David was born in Germany to musician parents with a hectic, globe -trotting itinerary. At 18 , David moved to New York City to attend New York University. While a freshman, she got her first restaurant job—bartending in an East Village Irish Pub. By her senior year at NYU, David was the assistant general manager at the Corner Shop Café. During this time she was offered an opening bartending position at Woodson & Ford. The cocktail bug took form. From there David has worked behind countless bars including Danny Meyer's Maialino, Keith McNally's Pulinos, Maison Premiere, Mayahuel and Donna. She opened Nitecap, where she is a co-owner, in 2014 with partners David Kaplan and Alex Day. Her cocktails have been featured in many publications and online journals such as the New York Times, Wine & Spirits Magazine, Nylon, Time Out New York, Elle Japan, Punch, Tasting Table, Food & Wine, GQ. Details,Vogue and Travel & Leisure. Natasha's cocktails have also been published in multiple books including Sherry: A Modern Guide to the Wine World's Best Kept Secret, Amaro and Spritz. Natasha was awarded Zagat's 2014: 30 Under 30, Eaters 2014New York and National Bartender of the Year and was named a 2015 Star Chefs Rising Star.
Together they run a consulting company called You and Me Cocktails. Some of their projects include Soho Grand Hotel, The Saguaro Hotel Palm Springs, The Roxy Hotel, MADE Hotel, Paul's Baby Grand, Dear Bushwick
The Winning Menu